Welcome to the studio: 3 minutes
Enter our calming, peaceful oasis and experience a sense of deep relaxation and healing.
Body work is for anyone, whether you're an athlete, a mother-to-be, young, old, or just someone undergoing the stress of everyday life.
Since 1984, we've provided professional massage therapy and body work to hundreds of clients throughout the New Jersey/New York area.
Hello, I'm Elisabeth Lindberg. I come from Sweden but continue to study massage therapy here in the United States:
Graduated January 1984 from the Morris Institute of Natural Therapeutics, specializing in Swedish Massage, Reflexology and Shiatsu
Graduated in Dec of 1987 in Reflexology at Laura Norman in Manhattan
Graduated in March of 1992 at Ohashi Institute in Manhattan
Studied shiatsu in Japan, aromatherapy at E-Scentially Yours in Manhattan, and Hot Stone Therapy and Ancient Hawaiian Lomi Lomi Therapy in Hawaii
Tucked away on the main street of this bustling metropolitan suburb, you'll find Elisabeth Lindberg's Massage Studio, an oasis of spiritual balance and harmony.
Step through the trellis, and enter the solarium. If you would like, sit for a few moments first on the welcoming bench in the carefully tended garden and experience the tranquility.
Once you step inside, your senses will come alive while your mind prepares you for the experience that awaits.
View our video to preview what you will experience.
Some of the experiences that await you at Elisabeth Lindberg include:
Traditional Swedish Massage

for that deep muscle massage
Swedish Massage with Aroma Therapy

combining deep muscle massage with the therapeutic essences of herbs and flowers to heal and relax
Hot Stone Therapy

where warm stones are placed in essential places to deepen muscle relaxation
Ancient Hawaiian Lomi Lomi

combining the best of Shiatsu, Swedish and Thai Massage
Shiatsu

focusing on acupressure points to dissolve aches, pains and tension
Reflexology

for a pressure point massage targeting special needs areas
Our services page lists all of Elisabeth's heeling therapies.
Choose a gift that's always welcome! Relaxation. A gift of massage is unexpected and cherished. Regular massage clients will be overjoyed. If your friend, neighbor, spouse or significant other have not yet experienced an Elisabeth Lindberg massage, they will be so grateful you introduced them!
An Online Gift Certificate
A handwritten gift
Purchase with PayPal or credit card. A certicate will be emailed to you to forward, or print and hand deliver!

Call Elisabeth at 201-934-1751 to discuss a personalized gift certificate to be mailed to you.

Elisabeth will promptly mail a beautiful handwritten certificate to meet your exact requirements.
LOMI LOMI combines the best of Shiatsu, Swedish and Thai Massage techniques. It breaks up tension in the muscles and joints, greatly boosts your circulation and releases congestion and toxins for a deeply relaxing healing experience. For centuries Lomi Lomi has been limited to the islands.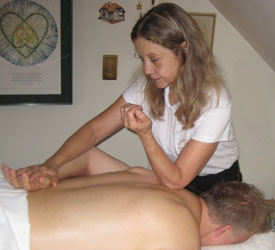 Only a handful of people offer it here in the states. I am proud to be one of those few offering this extraordinary massage technique. Clients who have been coming to me for years, say that Lomi Lomi is the best massage they have ever had. Why not experience it for yourself?